Description
Presentation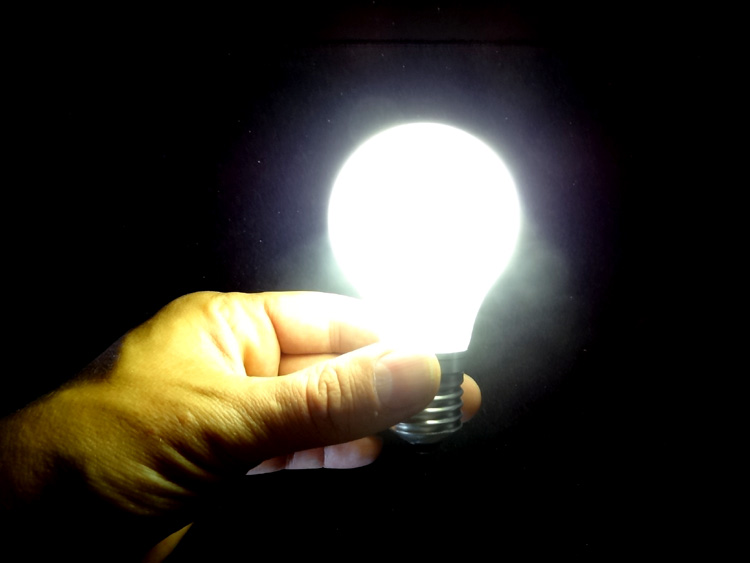 After many years and a lot of revisions, Marc Antoine decided to create Dark Light 4.0.
The possibilities are endless with respect to this powerful utility that has just recently be revised such that it contains the most updated circuitry and more powerful illumination. 
It looks like an ordinary light bulb, but now with the latest technology available on the market today.
Dark Light 4.0 is a product who has been upgraded though the years and the latest model features even brighter illumiosity and easy of use!
Remote controls
Dark light 4,0 is basically a remote controlled light bulb which is self contained. Now with 2 special remote controls !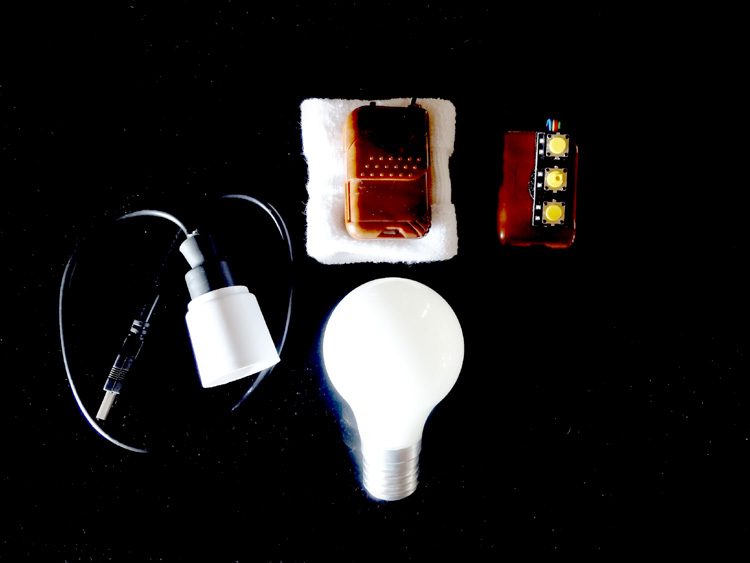 In the right hands it's an extremely powerful utility for a variety of different performance in the art of magic, mentalism, haunted magic etc.
Videos:
These high tech remote controls are completely news!  It features activation just by upward movement of you hand or arm and you can make the bulb illuminate! There is no need to push anything.
The first remote control:
It will allow you to switch the light on and off,when you move up and down your arm.
The second remote control :
1° With a single press on the first switch you will make the bulb strobe very quikly. It's good to create ghost or spirit effects.  
2° A single press on the second switch will allow you to strobe the light slowly and you can stop it when you want only if the first remote control hidden on your arm move down.
3° Finally a single press on the third switch will allow you to strobe the light but with dim effects of the light before a next strobe. it's very nice also.
All of this too is NOW possible with Dark Light 4.0
Imagine the possibilities :
You can ask a spectator to pick up a card in a deck and you can make strobe the light of the bulb at the exact number of the point of the card. Or in mentalism with forced numbers.
Paranormal experiment of spirit seances,
Use it like a lie detector,
Pranks for TV or hidden camera shows where the light bulb only works out of its socket, and so forth.
You can have the light bulb on a real lamp, cut the cord and yet, the bulb is still on. Touch the cut cord, and the light switches off. Have a spectator touch the cord, the light is back.
You can fan a deck of cards and have the light bulb switch on in the spectator's hand.
This is a perfect tool you can use for any mentalism act.
Benefits
This bulb is constructed of very heavy duty, impact resistant casing and is very strong.  When illuminated it will stay lit on stand setting for 7 second.
The light bulb contains a strong microprocessor developed to perform the effects with recently enchanced circuitry and luminosity with this 2014 model 4.0
Delay Features: Offers you the opportunity to engage the remote, without the bulb immediately illuminating. This is perfect when you want to set the bulb down for a delayed illumination. This allows you to show your hands empty, and not making any suspicious moves.
The light is exceptionally bright
You can light the bulb as far as 45 meters, even through the wall.
Dark Light 4.0 features an automatic safety that allows it to automatically turn off after 12 seconds of use – thus preventing it from overheating.
Charger for battery included which is so easy, it's a light socket and all you have to do is screw the bulb in. Features easy USB charging with a Red Indicator light at first which changes to green once fully charged. Take about 35-45 minutes for a full charge.
Efficiency Feature: Goes back to sleep mode automatically after 1 hour if you don't use it. 
Our comment
For sure Marc Antoine made the best ever electronic light bulb avaible on the market today(