Description
Presentation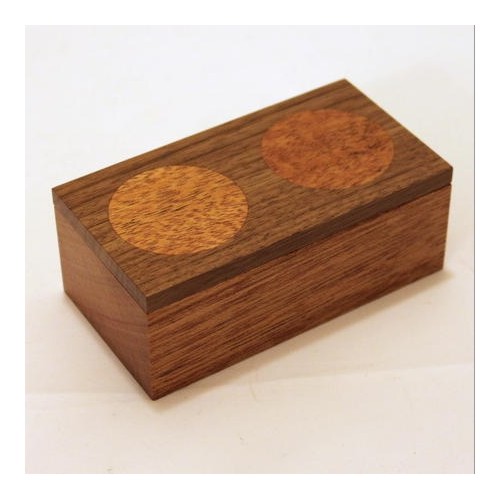 ESP Chip-Sational! While the effect is an old one, our new method and props bring this into the 21st. century. No expense has been spared to bring you a truly first rate effect. The quality of the woodwork is typical Viking quality, with great attention to detail. The chips provided are made of the finest professional material. The instructions have been updated and improved to give the performer maximum effect.
Effect
The performer shows the audience two sets of five ESP chips. These will be used in a Psychic experiment involving one of the spectators. The twist is, the spectator will actually be able to 'read the performer's mind'!
The performer places a chip inside the two compartment box, face-down, followed by the spectator placing his impression of what he 'feels' matches the performer's chip in the remaining empty hole. The performer always goes first. When all 10 chips have been placed in their respective holes they are tipped out on the base and one by one are shown to match perfectly! The spectator actually predicts the performers choices and is 100% correct!
Benefits
There is no force of any kind. The spectator has 100% control over the order of his selections.
The effect is performed exactly as detailed above.
The outcome of each presentation is completely random.
Set-up/reset takes but 30 seconds.
No sleights.
All props may be handled by the spectator.
The props are first rate.
The outcome can be different every time and although the trick is not completely self-working it is very easy to do. Highly recommended for mentalists, collector's and close-up performers.
Mahogany base with walnut lid and mahogany inlay, hand-crafted box; custom chips and complete instructions.
Box measures: 4 1/4″ (10,7 cm) x 2 1/4″ (5,7 cm) x 1 9/16″ (3,5 cm); chips measure 1 5/8″ (4 cm) diameter.