Description
Presentation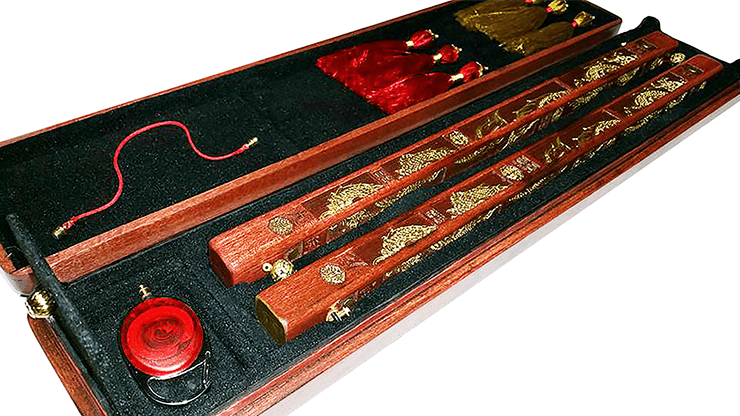 For the second release in their Classics of Magic line the award winning artists and craftsmen at Handcrafted Miracles have re-imagined the Chinese Sticks.
Video:
Precision carved from select hardwood and hand leafed in 14 kt. gold these sticks are perhaps the finest ever produced. But don't let the gallery quality appearance fool you they have been completely re-engineered from a magic perspective to provide the smoothest, fastest response possible. The Master Dragon Sticks are powered by an internal sled riding on sealed stainless steel ball bearings and incorporate a revolutionary new braking system which allows the entire effect to be performed without the telltale tipping of the sticks that other versions require. The tassels remain in the performer's control at all times.
The Dragon sticks are delivered in a matching laser carved hardwood display box and come with two sets of interchangeable hand wrapped tassels as well as a removable magnetic gag string which can be attached to the back end of the sticks. They have also included a reel for a third tassel which can be placed anywhere and pulled as an excellent finale to your routine.
Due to extended build times availability, the Master Dragon Sticks is limited so don't miss your chance to own this collectors quality piece of magical art.