Description
Presentation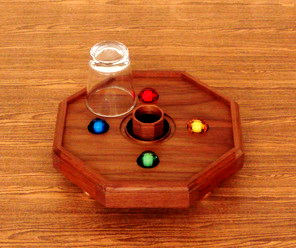 Based on an original idea from Mr. Jack Hughes's Penetra-Spheres.
A beautiful tray is shown, along with a small wooden cup, a shot glass, and four different colored "balls" (crystal like beads). The wooden cup is then placed in the center of the tray and the shot glass is inverted over the top, making it impossible for anything to enter the cup without first removing the glass. One of the colored balls is freely selected and then they are all now placed in recesses around the shot glass. A cloth is then spread over the tray, covering the shot glass and the colored balls. The spectator is then asked to concentrate on the colored ball they selected and to the spectator's surprise, when the performer removes the cloth, the chosen ball is now INSIDE the wooden cup which has remained covered by the inverted shot glass!
•     The effect can be immediately repeated and a different colored ball chosen!
•     There is absolutely no force or elimination of any kind!
•     Completely mechanical, self-contained and can be performed surrounded!
The nice thing about the octagon-shaped tray is that each of the colored balls can seemingly be placed back in the same positions even after the performer has asked for the spectators chosen color! This is an updated improvement on the original design especially for when the effect is repeated with a different colored ball selected.
The tray measures approximately 17.5cms across and stands about 4.5cms high, including solid brass feet and has been completely handcrafted from natural aged teak wood with a lightly distressed oil finish.
Mystic Mind Spheres comes complete with the special tray, wooden cup, shot glass, colored balls and black & gold cloth. The "balls" supplied are 18mm in diameter but can be replaced with other balls of the same size if you wish.
Note: Due to the mechanical mechanism of this effect, there may be some slight sounds heard during the performance.
Special thanks to Mr. Tony Curtis for coming up with the name for this effect.