Description
Presentation
A quart of cooking oil is poured into a borrowed hat, bag or purse. Immediately, the oil vanishes into thin air, without leaving a single drop!!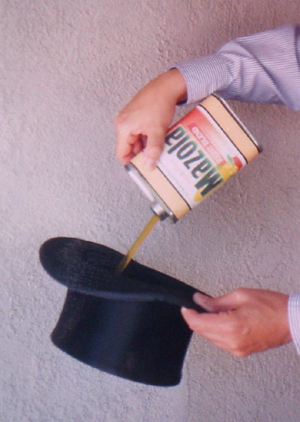 Other Effects
Pop Corn From Hat:
A top hat is displayed mouth-down on the magician's table. He turns the hat mouth-up and drops in a few kernals of un-popped popcorn. He then adds salt from a shaker and an entire quart of cooking oil! After the contents are stirred and a few magic words are spoken, the hat is turned over and a shower of popped popcorn pours forth into a bowl, which can be passed to your audience.
OTHER POSSIBLE EFFECTS:
Use One Quart Low to enhance your Dove Pan or cooking routines.
You can imitate the act of drink and pour it in your open mouth. Very funny reactions!
Pour the oil into a hat and place it on a child's head for hilarious results.
Keep the can in the kitchen cupboard. When company arrives, borrow a woman's purse, claiming that you hear the clasp squeak. Offer to lubricate the clasp by apparently pouring a full quart of oil into the purse!
Our comment
This trick is a great utility prop again avaible for a limitated time!