Description
Presentation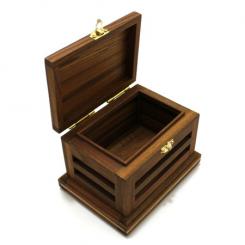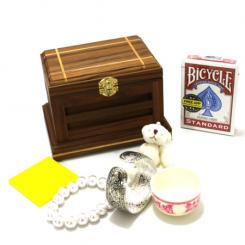 Have you ever discovered a mysterious object in your basement or attic?
Effect
The performer displays a small wooden casket and explains its backstories. He then asks an audience member to open the casket and to take out its contents. Inside are an antique bracelet, a bear doll, a "pearl" ponytail holder, a Chinese tea cup, a crumpled paper ball and a small color tile. The performer also states that he will attempt to conduct a magical experiment to demonstrate his mystical connection to these objects. He then turns his back and asks an audience member to place one of these objects back inside and lock the casket. The performer then turns around, holds the casket in full view and immediately names the chosen object while the casket is still locked!
The mechanism was brilliantly designed and carefully constructed by a master craftsman.
Each casket is built from the total of 85 wooden parts and requires over 40 hours to build.
The casket measures approximately 12.5cm wide by 10cm tall and 9cm deep and has been painstakingly handcrafted from natural aged teak wood with beautiful inlay work and a lightly distressed oil finish.
The woodwork that went into these is absolutely exquisite.
Crédits Photos: Andy Martin