Description
Only 1 on stock ! A very limited item.
We had only one floating ball after 6 moths of waiting!
Presentation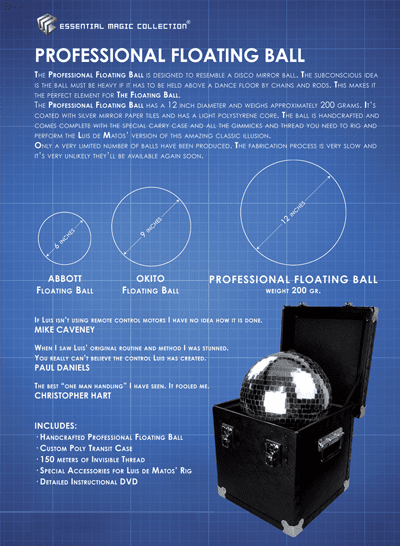 The Professional Floating Ball is designed to resemble a disco mirror ball. The subconscious idea is the ball must be heavy if it has to be held above a dance floor by chains and rods. This makes it the perfect element for The Floating Ball.
The Professional Floating Ball has a 12 inch (30 cm) diameter and weighs aproximately 200 grams. It's coated with silver mirror paper tiles and has a light polystyrene core. The ball is handcrafted and comes complete with the special carry case and all the gimmicks and thread you need to rig and perform the Luis de Matos' version of this amazing classic illusion.
Only a very limited number of balls have been produced. The fabrication process is very slow and it's very unlikely they'll be available again soon.
Video:
Supplied
Handcrafted Professional Floating Ball
Custom Poly Transit Case
150 meters of Invisible Thread
Special Accessories for Luis de Matos' Rig
Detailed Instructional DVD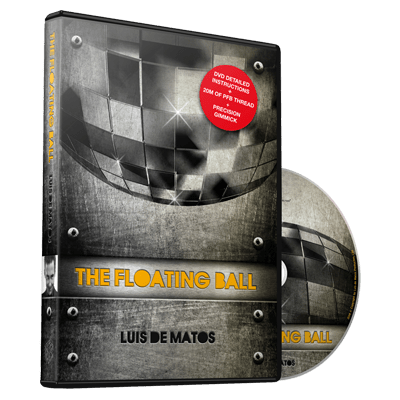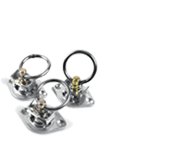 What pros says

When I saw Luis' original routine and method I was stunned.
You really can't believe the control Luis has created.
PAUL DANIELS

The best "one man handling" I have seen. It fooled me.
CHRISTOPHER HART

If Luis isn't using remote control motors I have no idea how it is done.
MIKE CAVENEY

Our comment

The hand mande of the ball is just gorgeous and all materal supplied for stage professionnal. Highly recommended!