Description
Coming soon – book yours today!
Presentation
This is the ultimate device for close-up work with invisible thread.
When the electronics help the magic with reliability and professionalism, it makes Spider Hand!
A huge success at the congress in Blackpool (UK) in 2020!
After years of engineering, testing, research and development, Jean Xueref made what can be considered today as the best gimmick that makes the invisible thread an exceptional invention for all magicians.
Benefits
We all know how easy it is to break the invisible thread, it's even a magician's scare.
Many of you often refuse to take an interest in thread magic because of a lack of confidence in existing electronic systems, and that's a shame.
The magic of invisible threads is one of the most beautiful that exists because the applications are very diverse: levitation, telekinesis, impossible balance, bizarre magic and spirit effects, creation of special effects…
– With this new bracelet and with the new techniques taught by Jean Xueref, working with the invisible thread has never been so easy and reliable.
– The closing system with a magnetic lid that protects the spool is super easy to open and close.
– The opening and closing of the bracelet is magnetic.
– The small wax ball is no longer wanders around by itself, with the risk of tearing it off at the last moment. A small relief with two notches present on the bracelet, makes it possible to stick the wax ball without the risk of losing it in a movement before working.
– The power switch can be activated with the pulp of a finger with great ease.
– The motor used is absolutely fabulous: no too strong traction with the risk of premature breakage in the middle of the work, the automatic winding of the thread takes place with a perfectly controlled traction. It's pure joy!
– You have the possibility to use the thread of your choice from other authors.
You can use it anywhere and at any time without any prior set-up.
Don't miss the ultimate Spider Hand!
Content
– A patented Spider Hand
– A USB cable to charge it
– A replacement spool of invisible thread
– New routines explained by Jean Xueref
– Additional coils available as an option (after April 2020)

– Warranty for professionals: 1 year.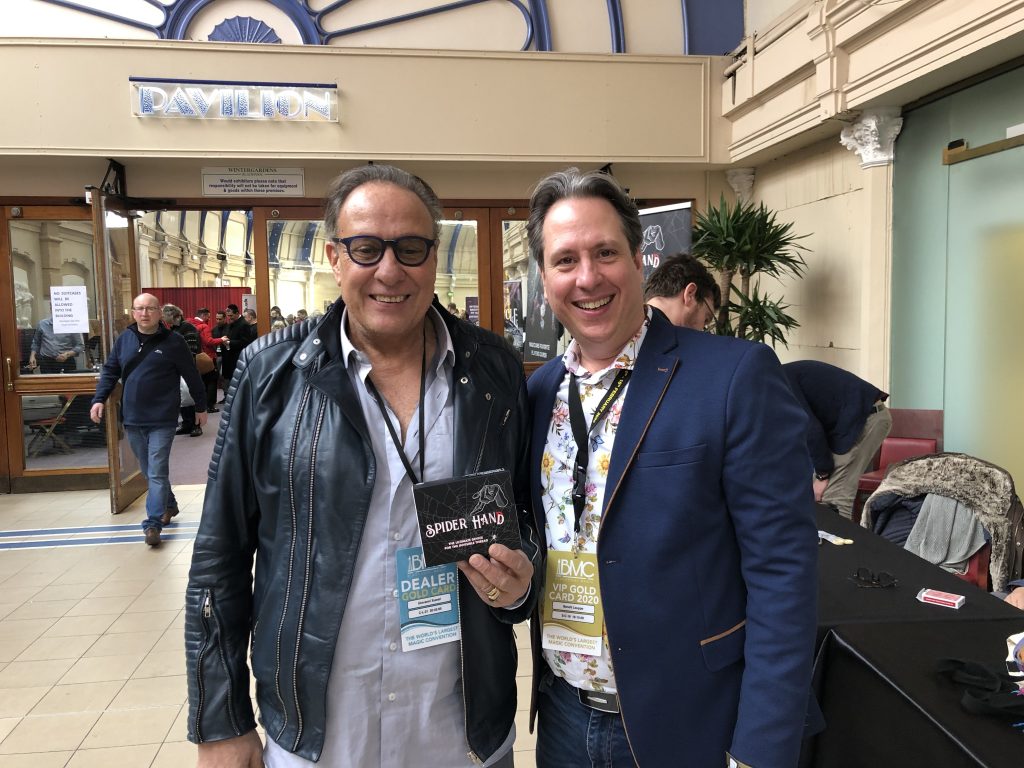 Meeting with Jean Xueref at Blackpool (UK) Convention in 2020