Description
Presentation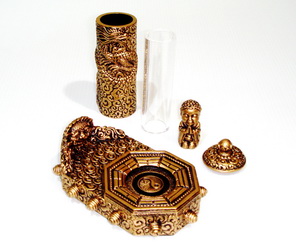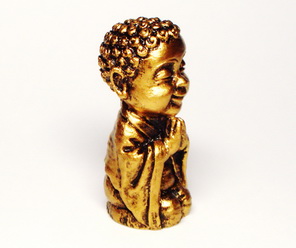 A beautiful ornate plinth is shown along with a small Buddha statue. The Buddha is now placed on the plinth and is then covered with a clear tube. Even though it remains in full view, the Buddha is completely isolated and surrounded by the tube which is also much taller than the Buddha itself. Next, a solid tube is placed over the clear tube and a lid is placed on the top. The performer now explains about the miracles and powers of Buddha and allows the spectator to disassemble everything and, to their surprise, the Buddha has completely vanished!
Video:
The Golden Buddha has been inspired by one of the rarest micro magic effects by Magiro called Babushka. If you're unfamiliar with the method, you're going to be amazed by the ingeniously designed mechanism used in this baffling micro magic illusion.
This is one of the most charming and baffling miniature illusions ever created.
The entire outfit stands approximately 12.5cms tall and has been painstakingly and individually hand-crafted by our own exclusive artist.
The photos do not do justice to this absolutely gorgeous apparatus. This is, without question, one of the finest and most exquisitely detailed effects ever produced featuring a Chinese Bagua symbol, a lion bite sword and the flying Chinese dragon in clouds!
Our special thanks to Mr. David De Graef for suggesting the ideas & consultations on this amazing piece of magic.