Description
This product is available through orders.
Presentation
GREEN MACHINE – Back to the future !
Comes with Green Machine, Yellow & Blue Trash Tube, Secret Gimmick, Sound Effects on Mp3 & Instructions!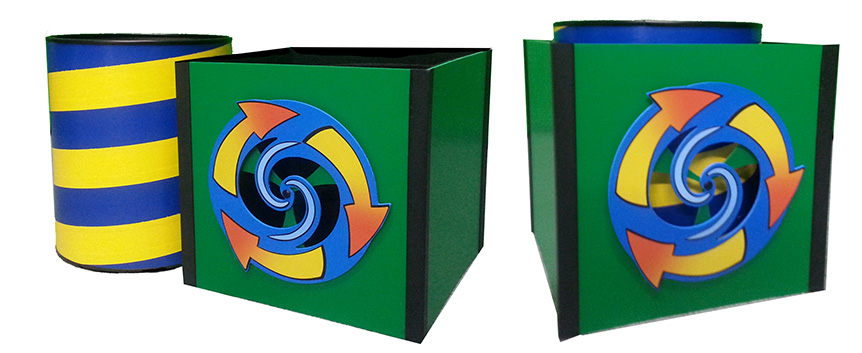 About 10 years ago, Steve Axtell developed an idea to change a production device into a shrinking or enlarging machine. He have been blessed to present for the same two apartment complexes for over 15 years now. Instead of producing items for a Christmas theme magic and illusion show the items were either shrunk or "accidentally" enlarged. The fantasy concept was to address how Santa could carry all those toys, to good boys and girls around the world. You would be surprised at all the possible items that are sold in JUMBO versions or miniature versions. The effect plays very well, we'll bring it back this year. One of the laugh getting mistakes is when the Altoids tin,which was "shrunk" instead is enlarged to a huge version. Your updated Square Circle would work well, the size allows for GIANT possibilities.
"A WINNER!"
Just watch the demo video and I think you have a WINNER here!
Magically recycle anything into anything… One of the Hottest Educational Topics in the world!
Note: The performance below is done with the previous version with yellow and orange color tube not yet available.
Video:
The story line is absolutely PERFECT. The prop itself is fun and BIG! This will play anywhere. I also love the spinning Recycling Logo.
I noticed some very cool subtleties in you handling as well.
The production of the video was excellent as well. I like the multi-camera angle editing during the patter. Very cool shhhtuff!
Overall this is a great creation as we all come to expect from you! Chance. Wolf 's Magic
I especially like the finish, where the parts of the "machine" are openly displayed at the conclusion of the routine. …May God Bless. Stephen Schieszer (Goodyear, Arizona)
Steve Woyce using the Green Machine as a Time Travel Machine. Note he calls it a "Green Machine" because it does not use any electricity, or coal or other resources to operate… it uses Magic! Also check out the little table he made for it. This sets it up off your stand so the audience can see there is nothing underneath the trick like a trap door that goes down into your stand. It makes it more magical.
Other great ideas !
This is Colin Dymond's routine with Green Machine, Axtell Magic Coloring Book, and the Wildthing Puppet. The whole routine is explained in the incredible DVD "The Magic Of Puppets".
Video:
Props :Axtell's Wildthing puppet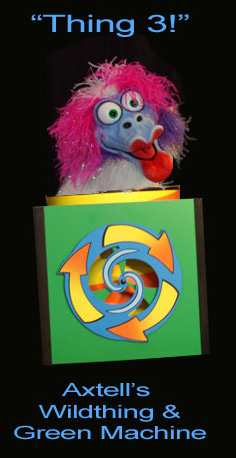 and Coloring Book