Description
Presentation
You asked for it, and we've got it!  Vectra Elastic Mono combines invisibility with exceptional strength to give you what we consider to be the finest invisible elastic mono-filament available.
The elastic is ready to use, there is no stripping required.  It has a black matte finish and is very invisible.  It is also surprisingly strong.  If you've had trouble performing effects like the haunted deck because your elastic isn't quite strong enough, this is the thread you're looking for.
This thread is highly invisible and suitable for work in close quarters.  If you're looking for something less invisible but even stronger check out EVE.
As a BONUS when you order today and you'll also receive access to the elastic thread knot tie video.  You'll learn to tie knots in elastic thread quickly and securely with no tangles, using only your fingers.  It makes it so easy you could do it blindfolded!
Q. Is the knot tying techinique the same method detailed on the EVE tutorial?
A. No.  The new tying method uses nothing but your hands, is easier, faster and ties a much better knot.  It is the secret method we use when we need to tie knots in elastic.
Q. Is Vectra Elastic Mono just pre-stripped EVE ?
A. No.  Mono is not stripped from EVE.  This fiber is substantially stronger than stripped down EVE would be, but it's still very invisible.  When handled properly we've even had success with this fiber outdoors.  And because it is stronger it will stretch farther without breaking.
Wondering which thread is right for you?  Compare our threads: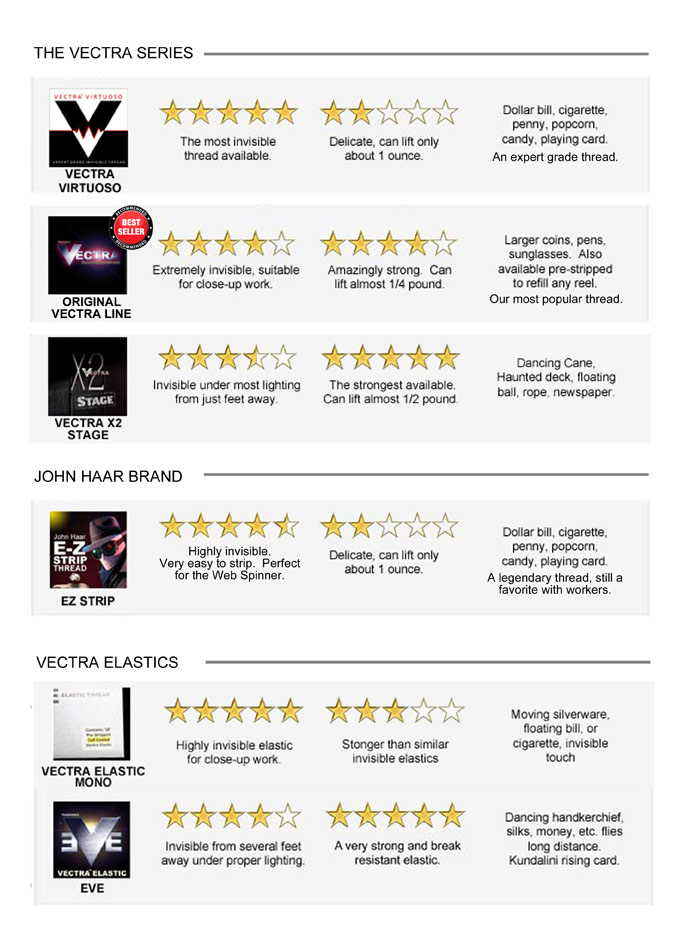 Clic to enlarge the picture!
You will receive access to the tying video and over 50 feet (+- 15m) of Vectra Elastic Mono conviniently wrapped on a card to fit in your pocket!