Description
Presentation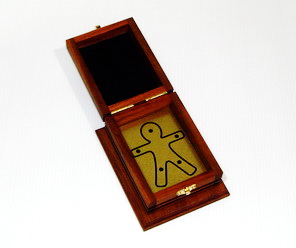 A beautiful wooden box is shown, along with five brass pegs. Inside the box, there is a brass engraved plaque depicting an outline of a Voodoo Doll. The doll has five holes in it. One in its left leg, right leg, left hand, right hand and its head. The performer now turns his back and a spectator plunges one or more pegs into any of the five holes in the doll, and then closes the lid and locks the box.
The performer now turns around, shows the box on all sides to prove that the box is absolutely opaque and solid and immediately announces the number of the pegs inside plus the location of each peg while the box is still locked!
There is absolutely no force and the spectator has complete control over how many pegs he would like to use. It could be one, all five or none, and also which holes in the plaque he chooses to insert them.
The effect is completely self-contained – No external gimmicks of any kind are used!
The effect is all done in full view – The box never leaves the view of the spectator, not even for an instant!
The effect can be immediately repeated with a different outcome!
The mechanical method is absolutely ingenious and it does not rely on magnets or involve springs to do the work. This uses one of the most unique and intricately built small mechanisms we have ever produced. It is truly a marvel of workmanship.
The box measures approximately 8cms wide, 6cms high and 10.5cms deep and has been completely handcrafted from natural aged teak wood with a lightly distressed oil finish. The brass pegs are each approximately 5cms long and 3mm in diameter and come complete with a custom designed display stand.