FESTIVAL INTERNATIONAL DE LA MAGIE DE LIEGE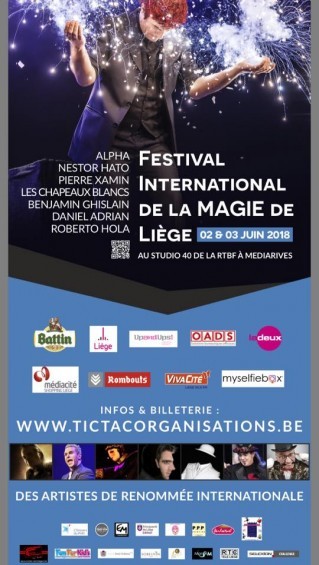 June 02 and 03 2018
At the Studio 40 of RTBF – Mediarives
Internationally renowned artists:
Alpha-Nestor Hato-Pierre Xamin-Les chapeaux blancs- Benjamin Ghislain- Daniel Adrian-Roberto Hola.
Online ticketing: http://tictacorganisations.be
!!! Limited Places !!!
27 and 30 April 2018 During the 2nd International Festival of Magic of Liège, we will be present with magicians Carl Valentin, Julian Dionisio, Marc Libart, Fernando El Magico, Bruno Vairone, Christian Maure, Roberto Hola… at the Médiacité of Liége.