Description
Presentation
We are angels with only one wing. We have to embrace one another to be able to fly.
Luciano de Crescenzo
"Are angels immortal?"
A special moment between two people, alone, somewhere in a secluded corner of a discreet bar, far away from the world?s hustle and bustle. A conversation about angels. A game of destiny.
"This is how the game goes: Every card I place on the table represents another year of your life, from now on."
Effect
A person names a card, any card. The deck, that was lying there from the beginning on, is simply picked up and the cards are counted out on the table face up. There are only 51 cards. The chosen card of destiny is missing.
"Perhaps you are… an angel."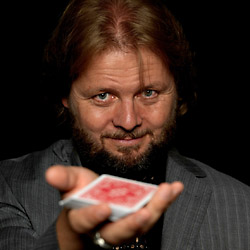 Christian Knudsen, the creator of "Photographic Memory", brings you another strong effect: "Angel"
Provided deck can be adapted to other brands and colours.
The person may choose nearly any card.
No sleights needed.


Benefits
No calculations.
No stooges or pre-show work.
Only one deck is used and it is visible all the time.
No hidden extras or rough-and-smooth.
The audience sees regular cards with fronts and backs.
Instant reset.
A touching presentation based on an idea by Gaetan Bloom.
Perfect for intimate moments.
See video:
The Gaffed Deck comes as Phoenix Deck with red backs, but can easily be adapted to your favourite deck of cards.