Description
Presentation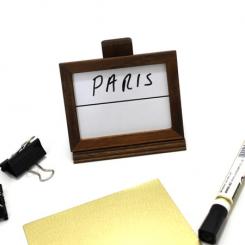 This effect was inspired by Richard Himber's Slate in the nineteen fifties. The mechanism, however, has been carefully re-designed and completely handcrafted into the frame construction using centuries old techniques. This is unquestionably one of the most direct mental effects in magic!
Effect
The performer explains that before the show, he has written a prediction on a small whiteboard and covered it with a brass plate as seen on the table. He then asks a spectator to name any object, for example any person's name, a number between 1 and 1,000 or any city in the world. The choice is totally free. There are no forces of any kind. The performer then writes the chosen word with the date of the performance on the back side of the whiteboard as a record for the audience. With absolutely no hesitation, the performer removes the brass plate in full view, showing that the prediction he previously wrote before the show started exactly matches the spectator's selection!
The frame measures approximately 8.5cm by 11cm and 1 cm thick and completely hand-crafted from genuine teak with a heavily distressed antique finish so that the props look as if it's been stored for decades in an old curio shop.
Each "Ghost Board" comes complete with a custom designed display stand.
Crédits Photos: Andy Martin