Description
Presentation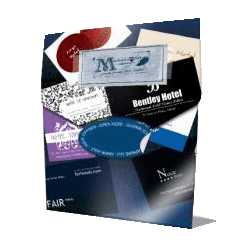 If you're looking for a piece of mentalism that fits in your pocket, but packs a devastating punch – with not one, but two effects – then Hotel is for you!
Video
Effect
You give the spectator an envelope containing a prediction. You then hand the spectator a stack of business cards you've collected from various hotels you've stayed at over the years. While your back is turned, the spectator goes through the cards one at a time. He chooses one and puts it in its pocket.
Once you turn back around to face the spectator, you immediately know which hotel he has chosen!
Now you decide to take the experiment to the next level. The spectator goes through the stack of business cards again. Again he stops on the card of his choice. You then ask him to open the envelope, in which he finds a room key from the hotel he has just selected!
Supplied
You receive:
Business cards from various hotels around the world. Spectators will not question their
authenticity. Every detail has been carefully thought out. The cards have been designed to
do the heavy lifting for you!
A 20-page instruction booklet in English (illustrated by Tony Dunn and designed
by Benoit Drager) chock full of advice on presentation, additional tips, etc.
A real hotel room key designed specifically for this trick.
Key features
Totally realistic props
Devastating impact on spectators.
Can be performed anywhere, under any conditions
Spectators really have a free choice
What Pro saying..
"If you check in to this Hotel, you'll enjoy the amenities."
Max Maven

"I own 3 sets of Ludo Mignon's Hotel cards! He has taken a timeless principle, updated it with a modern theme, supplied absolutely top-class props and added a number of secret "somethings" to create a sensational effect. This is Mentalism at its finest! The secret is undetectable, everything is open and above board and yet you still read your spectator's mind and then make a great prediction. I highly recommend this package to every mentalist!" 
Richard Osterlind
"Hotel packs the impact of a full blown stage piece into your jacket pocket! The method is brilliantly structured and allows for a deeply fooling demonstration. This is an excellent addition to any working performers arsenal of miracles." 
Luke Jermay.