Description
Presentation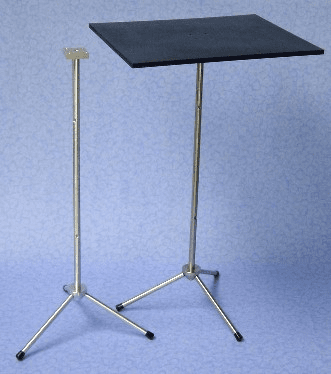 The advantages of this table manufactured in Germany is the solid steel feets and frame who are known for over ten years in the industry and appreciated by professionnal magicians. The weight, the clever design, the careful attention in details and craftsmanship ensure absolute stability. This is a huge avantage for all users.
The central rode have a shiny silver color. The table is very stable and own thirds feets. This table is manufactured for a professional use, because the connecting elements, the central rode can also be removed without tools and is made in high strength steel!
Total height is approx 86 cm – all pieces are separable and becomes small!
The table top is decorated with a piece of synthetic black velvet finishing. The size of the table top is 55 X 35 X 2 cm.
This product is very nice and higly recommended.