Description
Presentation
Steve Fearson's Master Wax now available in COLORS to match any playing card AND credit cards!  Perfect for attaching invisibly to a playing card for your favorite levitation effects.
You receive 4 colors.  Red and Blue for the back of standard Bicycle decks.  Also Black and White for attaching to the faces or to the backs of the many specialty decks that have been introduced recently.  Now you can perform your favorite card levitation effects with your Tigers, Ghosts, Guardians, you name it!
 
Can you see the wax in this photo?  We stuck toothpicks in each pea-sized piece.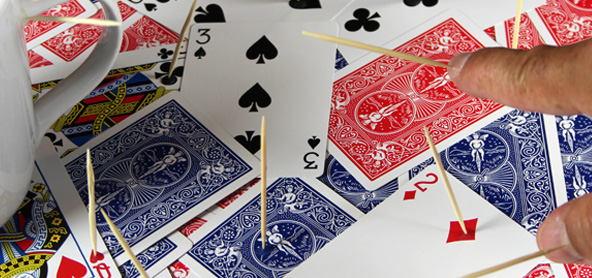 (The wax used on the fingernail is flesh color, available separately here)
You can also MIX the colors to achieve EXACTLY the shade you need!
Adding a dab of black will darken up the color, a bit of white will lighten it.  This means no more worries in close quarters, they'll NEVER spot your wax.  Use the white to attach to the back of a borrwed credit card and it COMES OFF CLEAN!
Invisible thread work demands a wax that is tacky and pliable, yet hard enough to hold the thread firmly so that it doesn't pull through the wax and come loose. This wax meets all those requirements!
Fearson's Master Wax Holds Thread Tight!
Because it's harder than standard magician's wax, a smaller amount can be used. That fact alone is a big plus.  Add a perfect color match and you've got the makings for some major league miracles!
An absolute MUST for the serious thread worker.

Approved for use with Vectra Line!

Recommended for use with the Master Levitation System and the only wax suitable for use with Vectra Line Super Strong Invisible Thread.