Description
Presentation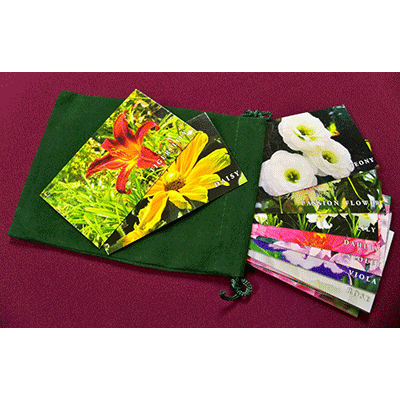 Approach a beautiful woman and write a prediction on a cocktail napkin. Show her a thick stack of small cards with gorgeous pictures of various flowers. She selects one at random.
It's a rose. You turn over the napkin and show your handwritten prediction: "Rose".
Now you twist the napkin into a simple flower as an unforgettable souvenir.
Ask her to inhale its aroma…she smells the fragrance of a rose, her chosen flower!
Benefits
Fantastic for close-up or stand up
Force deck of 24 flower images
Beautiful original photography
Perfect for couples and special occasions
Bonus routines included
Complete with simple fragrance system
Stylish drawstring bag
Revue
"The props are well made, and the method is super simple. As I often say, if you like the effect – I do – you'll be very happy with your purchase."
Jeff Stone, MagicReviewed.com 1/4/2013