Description
Presentation
Steve Fearson is the only distributor of the orignal AUTHENTIC John Haar E-Z Strip Invisible Thread.  As the name suggests, it's easy to strip and work with.  In fact we call this our worker's thread..  If you're a pitchman or do walk around work where you're required to reset many times per day, or if your routine demands that you repeatedly break the thread and reset… EZ-Strip is the thread for you.
Video
Benefits
Strong enough to hold a playing card, dollar bill or cigarette easily, yet nearly IMPOSSIBLE to see! 
What makes this thread so invisible is a secret that has been lost for nearly 2 decades. This thread has been off the market for well over 15 years and is finally available again from the only authorized distributor, Steve Fearson.
We currently have a limited supply of this very special thread. Don't miss this opportunity to snatch up a nice supply at a great price.
Supplied
You will receive a 25 foot (7,60m) length of unstripped thread, which contains over 40 individual strands.
Wondering which thread is right for you? Compare the threads: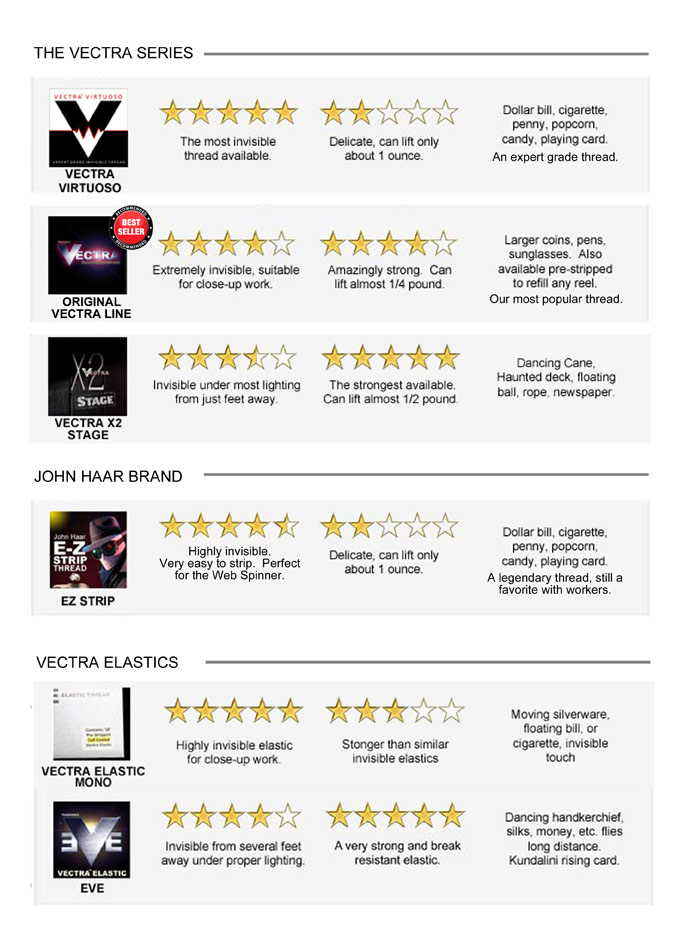 Clic on picture for zoom!