Description
Presentation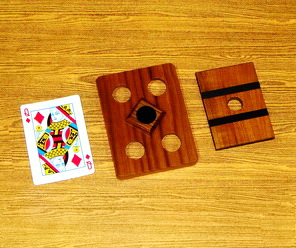 A playing card is selected, signed by the spectator and placed into a small wooden frame. While the card is still visible through the holes, a brass rod is pushed right through the middle of the frame, apparently going through the center of the card! The card is then immediately removed and shown to be completely unharmed. It's a great mini-illusion!
Video:
•     The card can be signed and the signature remains in full view as a penetration takes place!
•     The effect is entirely self-contained and mechanically ingenious!
•     The effect can be repeated with a different playing card!
The mechanism has been cleverly designed and there is just no way that the conventional method could possibly work the same way that this effect is achieved.
The frame measures approximately 11cms by 8.2cms and 1.2cms thick and has been completely hand-crafted from natural aged teak wood.
Limited edition, only 2 on stock !