Description
Presentation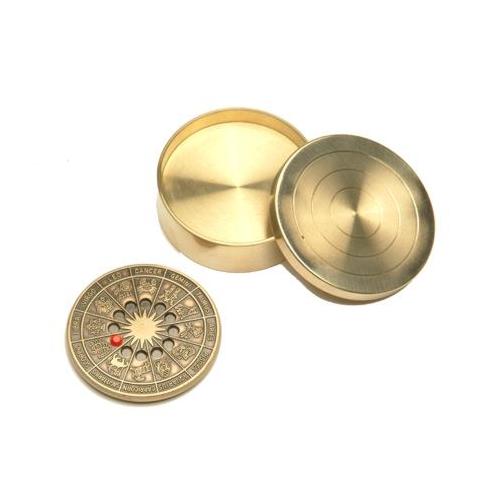 The performer directs the spectator's attention to a small brass box that has been sitting on the table at all times during the performance. "What's your sign" asks the performer. The spectator replies. "……………….. " ………. "That's amazing" says the performer, and he announces his sign.
The performer opens the brass box and shows that inside is a heavy bronze zodiac medallion with an embedded gemstone. The medallion is removed and handed to the spectator. Upon close examination, the spectator finds the gemstone is embedded next to his/her sign! Turning the medallion over, another gemstone is found to be embedded at the performer's sign. Merely a coincidence? No, just clever Magic from CW.
Benefits
There is no forcing the spectator.
What ever his/her sign is will always be the sign designated by the birthstone.
Almost instant reset.
Supplied
Top quality brass box with beautiful bronze medallion.
Full color instructions.
Our comment
A top quality product from Collector's Workshop!
Very nice designed for exigent performers.