Description
Presentation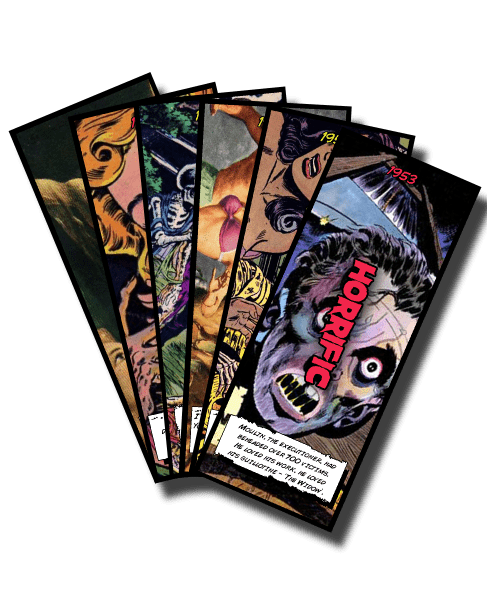 The strange comic book shop had been there for as long as I could remember.  Lonely and forlorn, it stood amongst derelict factories, caged liquor stores and seedy strip joints.  How it continued to maintain business in such squalid district I shall never know.  Maybe it was something to do with the comics the mysterious owner sold there.  On dusty shelves strewn with dried mouse dropping and crispy spider exoskeletons you could find hundreds, if not thousands of comics.  No super heroes could be found here, nor humorous children's characters; these were horror comics depicting hideous and perverse tales, mutated beings from other planets and the living dead hungry for flesh.  Row after row of unspeakable horror committed to paper and sold to any brave soul who dared enter.
It has been said that people have experienced strange things within the shop – time travel and synchronous psychic visions to name but a few.
But do you know the strangest thing of all? 
If you venture to that gloomy part of town looking for the shop you won't find it for it only exists in your mind.  It was created when you read this story and it will remain in your mind forever, in that dark corner of your conscience where you store thoughts you'd sooner forget.  The disturbing images, the bad experiences, the times of despair.   The comic book will remain there, forever open and waiting for your visit.
So step inside, browse the shelves and pick a comic book….
This version of A Book at Midnight is ideal for events and performances where your audience may not be familiar with the works of Poe or Lovecraft.  Perfect for younger audiences, Halloween parties, corporate events and 'lighter' shows this will pack the same punch as the original effect without the need to talk about the author.
The deck contains 24 bookmarks featuring titles and images from classic horror comics from the 1940's and 1950's.  The mechanics are invisible and foolproof, no gimmicks, no stacked decks, no memory work – just a great story and the imagination of your audience.  Transport two minds to the comic book shop of horrors, make them hear the same sounds, see the same things.  Is it a demonstration of hypnosis? Time travel? Or psychic synchronicity?   You decide but either way your audience will be driven to insanity trying to figure this one out!
Video (H.P. Lovecraft edition, as example):
Supplied
A deck of 24 bookmarks featuring classic horror comic titles
A DVD containing performance material and full instructions
A collector's storage tin to protect your deck with enough room to store up to 3 sets of bookmarks or other small props