Description
Presentation
3VE stands for Triple Vectra™ Elastic.  We call it EVE.  It does miracles.
EVE is made from the most elastic fiber known to man and is pressure-dyed black with a true matte finish for the ultimate in invisibility.
EVE is comparable in strength to Steve Fearson's original Vectra™ Line Invisible Thread, but it can stretch to almost 6 times it's original length!  This amazing property allows you to perform miracles of levitation and telekinesis not possible with a normal or "static" line.
 Wondering which thread is right for you?  Compare our threads: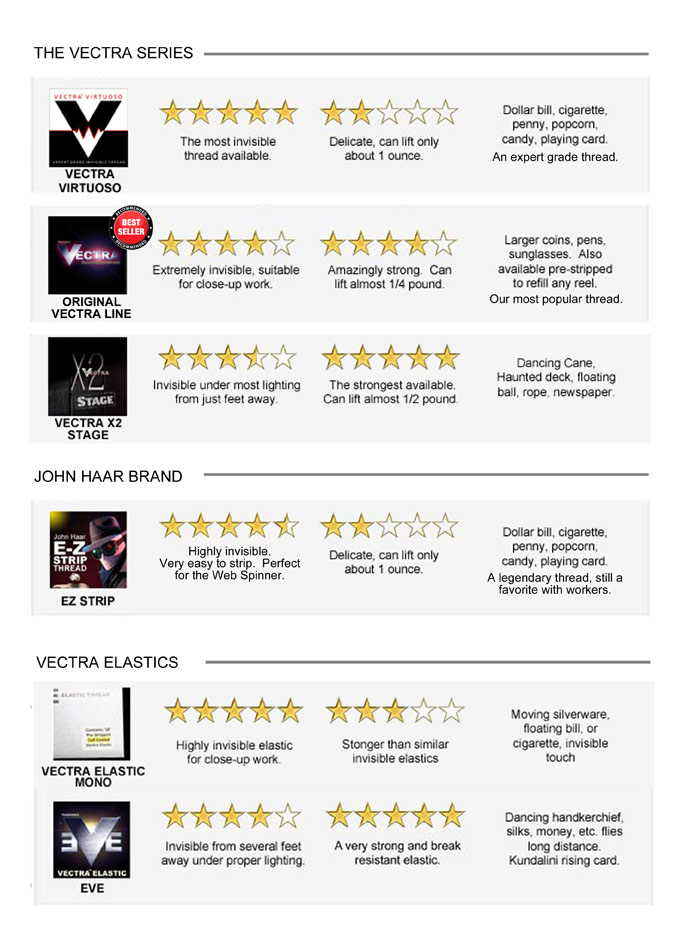 Clic on the picture for enlarge it!
It is suitable for use with any routines you may already be performing that use invisible elastic thread. 
The only difference you'll find is that EVE Triple Vectra™ Elastic is STRONGER and MORE INVISIBLE than any elastic thread we've used.  And it's elasticity will simply AMAZE you!
The amazing elastic properties of EVE Triple Vectra™ Elastic open the door to a whole new realm of possibilities.  And your EVE purchase includes an elastics tutorial video featuring Steve Fearson.  You will never look at invisible elastic the same way again!
Video
If necessary, the included strand can be split or stripped like string cheese resulting in even thinner strands.
You will receive a 50 foot (+- 15 m) length conveniently wrapped on a card which can fit comfortably in any pocket or wallet.
You'll also receive access to access a BONUS online tutorial video featuring Steve Fearson.  In the video, Steve shares his methods for handling and tying elastic as well as demonstrating some EXTREME stuff you probably never imagined elastic could do!  The high quality video is over 20 minutes long and it's yours FREE when you order today!