Description
Presentation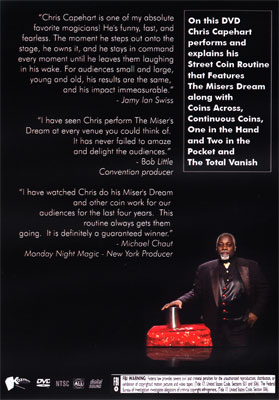 The Misers Dream along with Coins Across, Continuous Coins, One in the Hand and Two in the Pocket and the Total Vanish are the tricks you will learn on this dvd.
Watch trailer
What pros says
"Chris Capehart is one of my absolute favorite magicians! He's funny, fast, and fearless. The moment he steps out onto the stage, he owns it, and he stays in command every moment until he leaves them laughing in his wake. For audiences small and large, young and old, his results are the same, and his impact immeasurable."
– Jamy Ian Swiss
"I have seen Chris perform The Miser's Dream at every venue you could think of. It has never failed to amaze and delight the audiences."
– Bob Little, Convention Producer
"I have watched Chris do his Miser's Dream and other coin work for our audiences for the last four years. This routine always gets them going. It is definitely a guaranteed winner."
– Michael Chaut, Monday Night Magic – New York Producer
Our comment
This DVD is really good. A funny, fast and fearless approach on children and coins production. Highly recommended!