Description
This product is available through orders.
Time of delivery: +- 6-8 weeks.
Presentation
I trapped a little Zombie, I thought that it was dead…
I want to show him to you, he is the Walking Fred!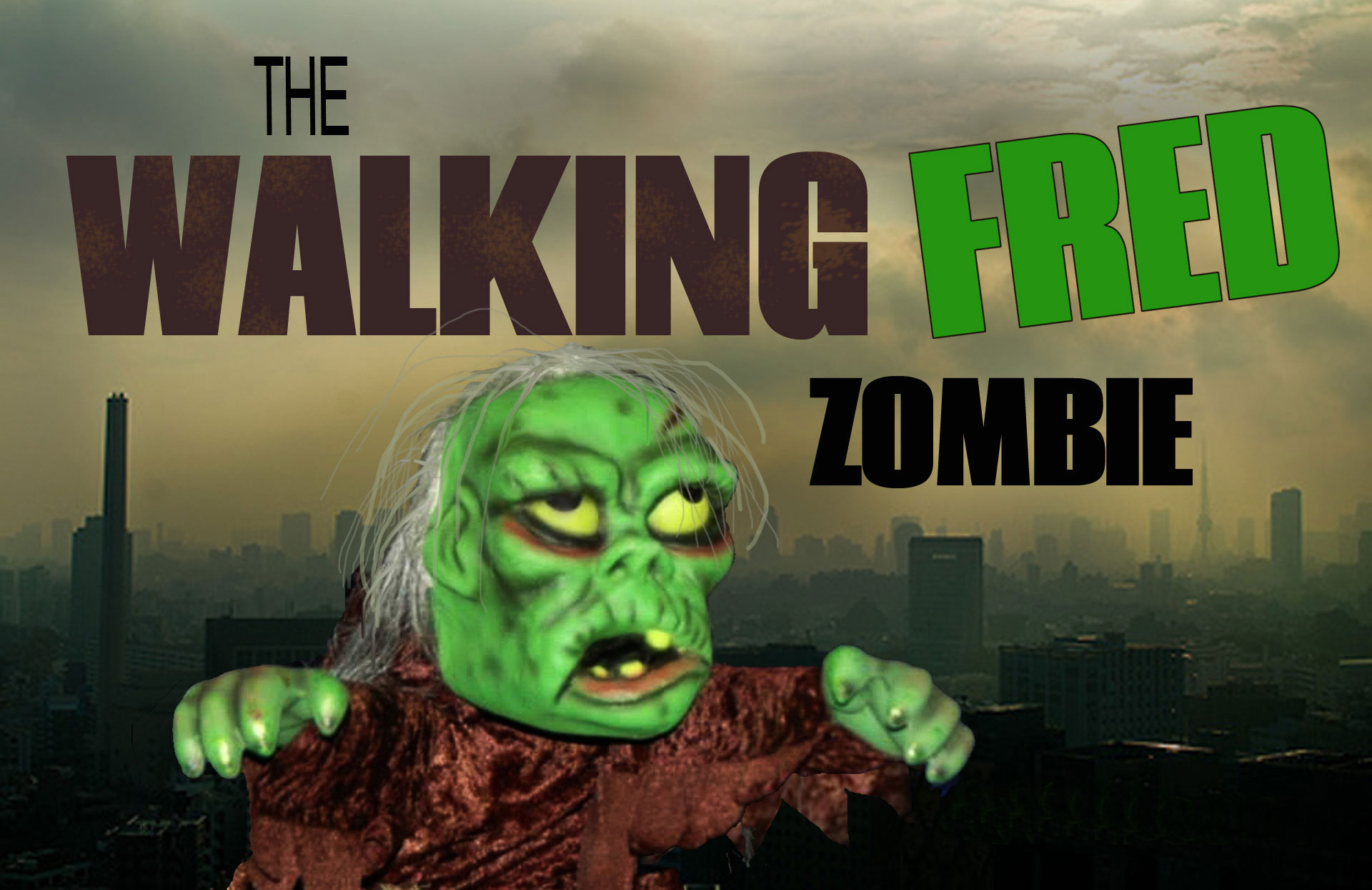 144 shows in 24 days at State Fair of Texas with "Fred"……. immediate success!! John Hardman
Steve Axtell and Paul Gross witness the hideous floating Zombie Head!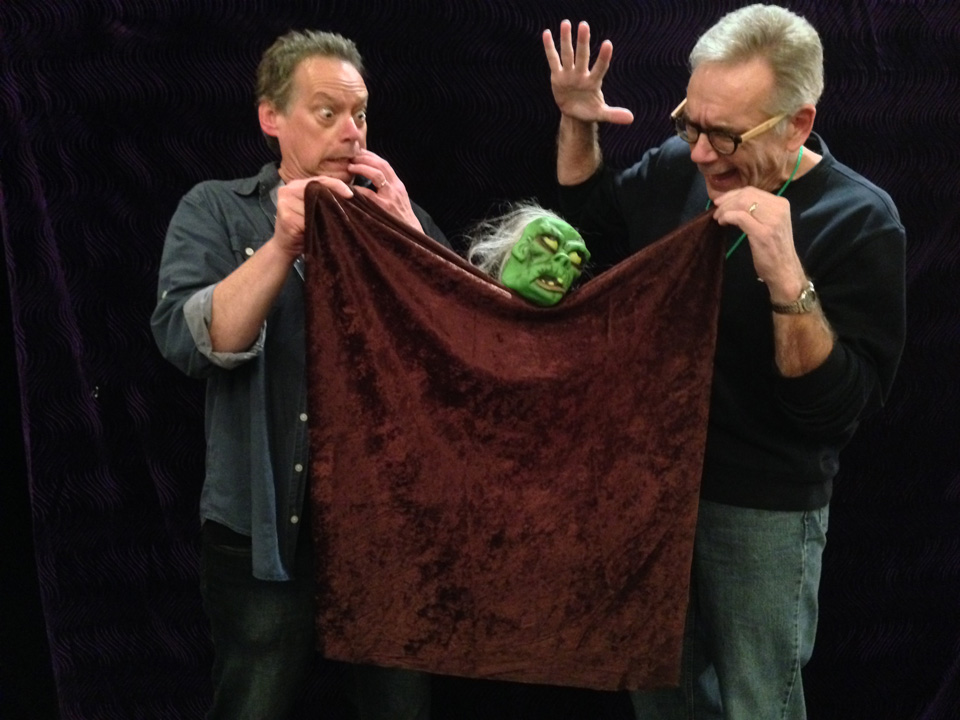 Tammy Hamada releasing the zombie!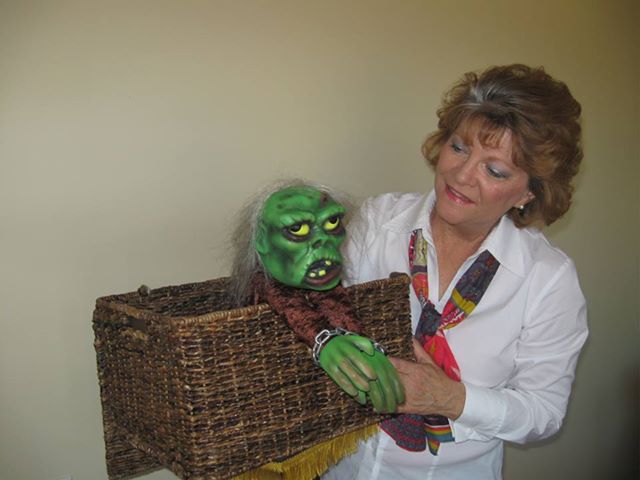 Ken Scott Performing with "Crankenstein" Zombie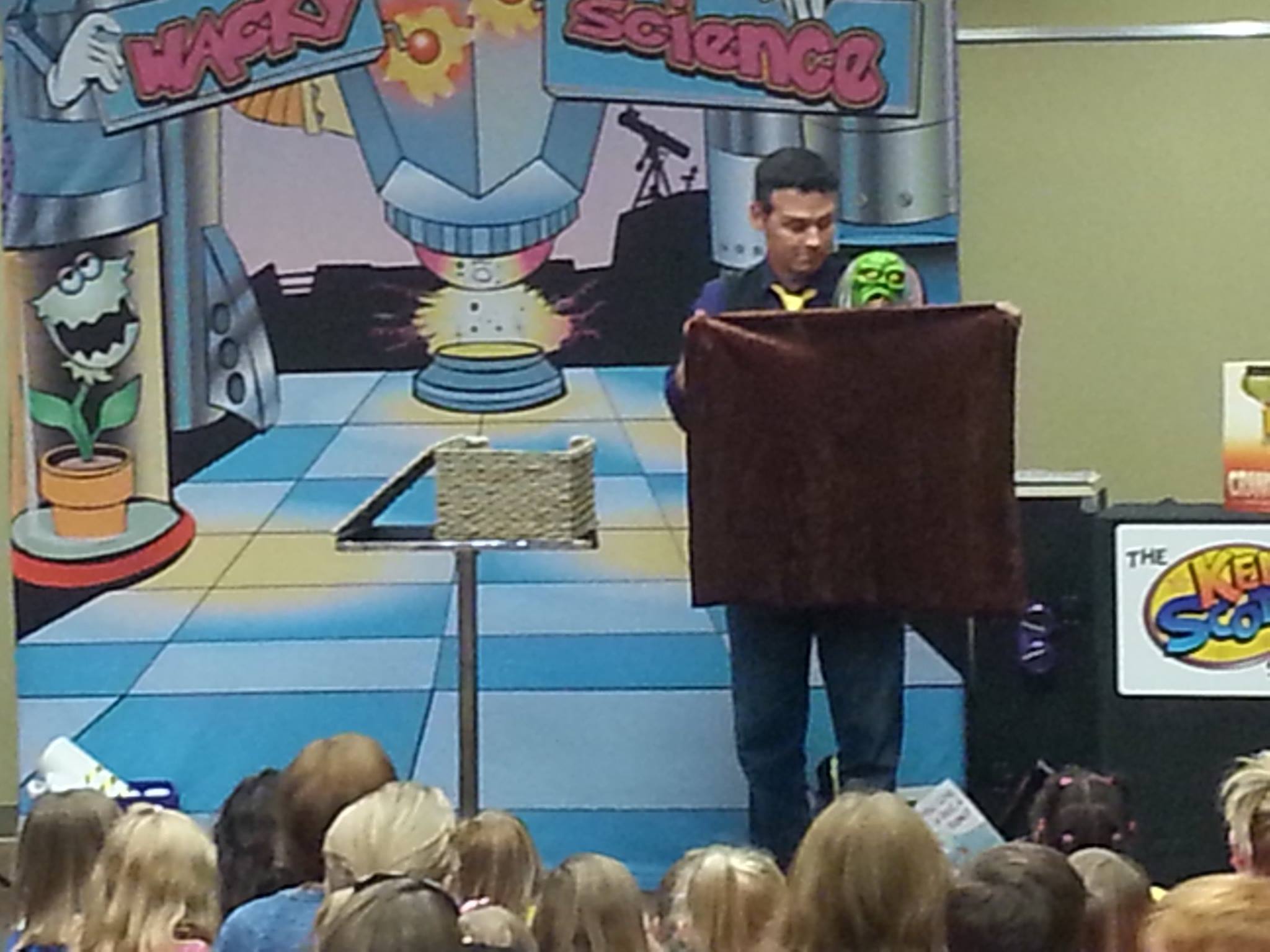 NY Ventriloquist Pete Michaels doing a Walk Around with Fred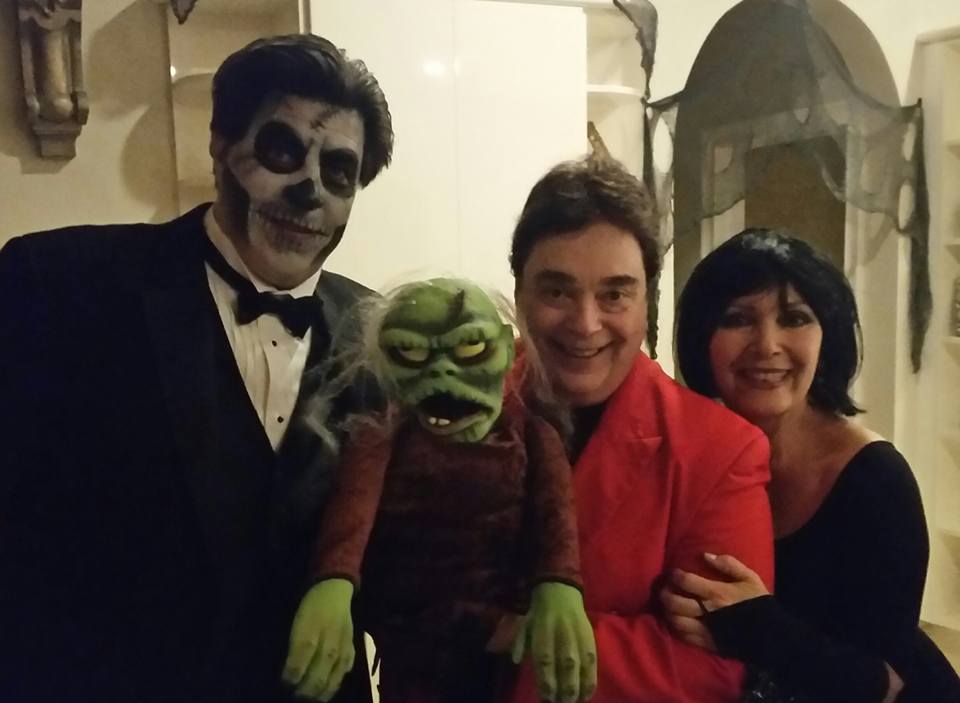 Paul Cochrell loving his Zombie!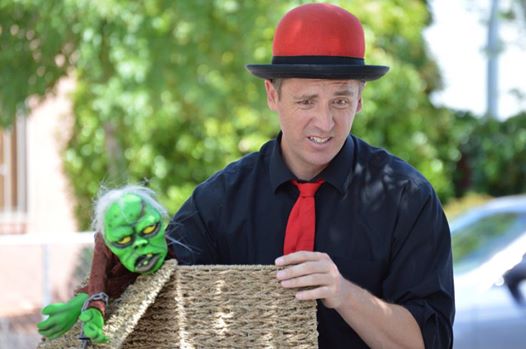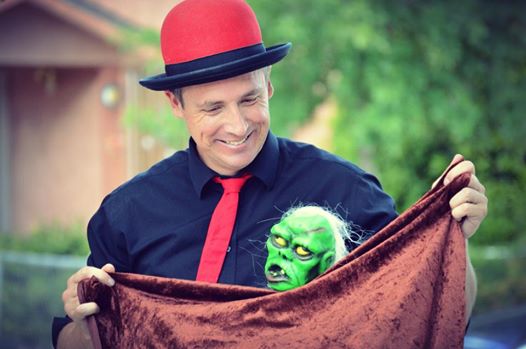 Video: Routine Performed by Steve Axtell at the KAX Conference
Note from Steve – Young kids will find my routine believeable and freaky, so this is a great tip! Older kids will love that it is so mind bending and unusual, and will love all the macabe humor involved. Choose the right crowd and adjust the routine like Paul suggests here:
"It seems that most every time I perform with The Walking Fred, a young child gets scared and starts crying. I came up with a solution last night and it worked. Only time will tell if it will work every time though. A girl was scared of Fred and I assured her we were friends. I told him to take a nap and kissed him on the cheek just as the Rockabye Baby song started. I did the bit and the girl had the biggest smile out of everyone for the rest of the show. Just thought I would pass that on if you find yourself in the same situation". Paul Cochrell
"If you work with kids, or like creepy magic, or always wanted to do Vent but not the work… here's a fun thing! It's Steve Axtell's "Zombie-Zombie" or "The Walking Fred" Steve's is a marvel of demented imagination.
It is so cute! I love this. It's a Zombie who falls apart (zombies rot you know) and his head becomes a floating ball. There are VERY FEW zombie innovations that really can be considered "improvements." I almost never want or buy a zombie fad thing, but this is NOT a fad thing it's really cool!
MIKE BENT – Wacky Science Show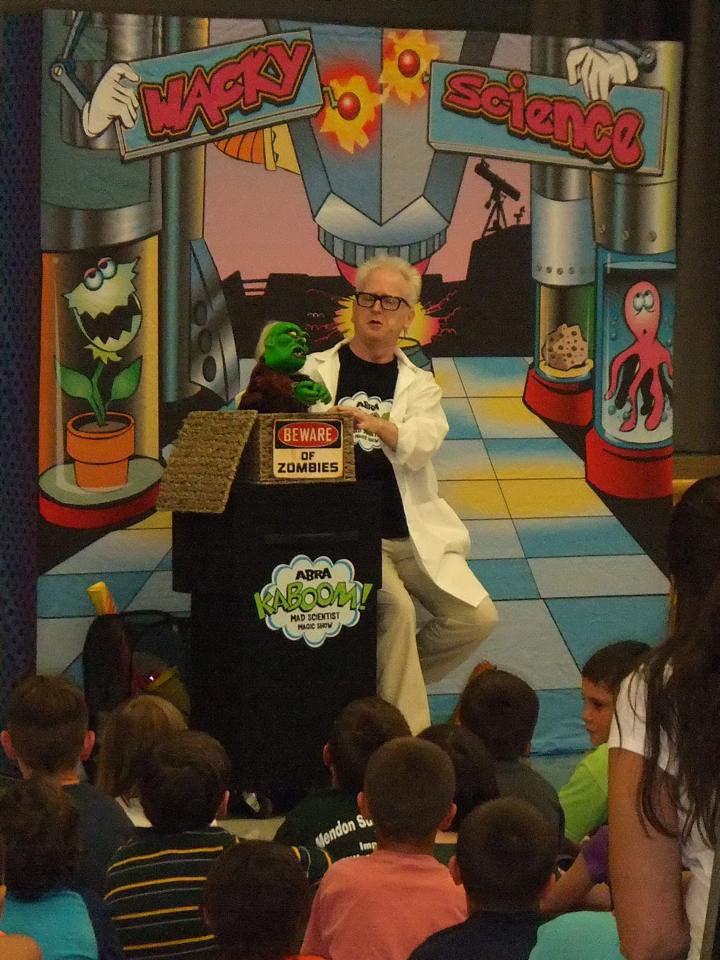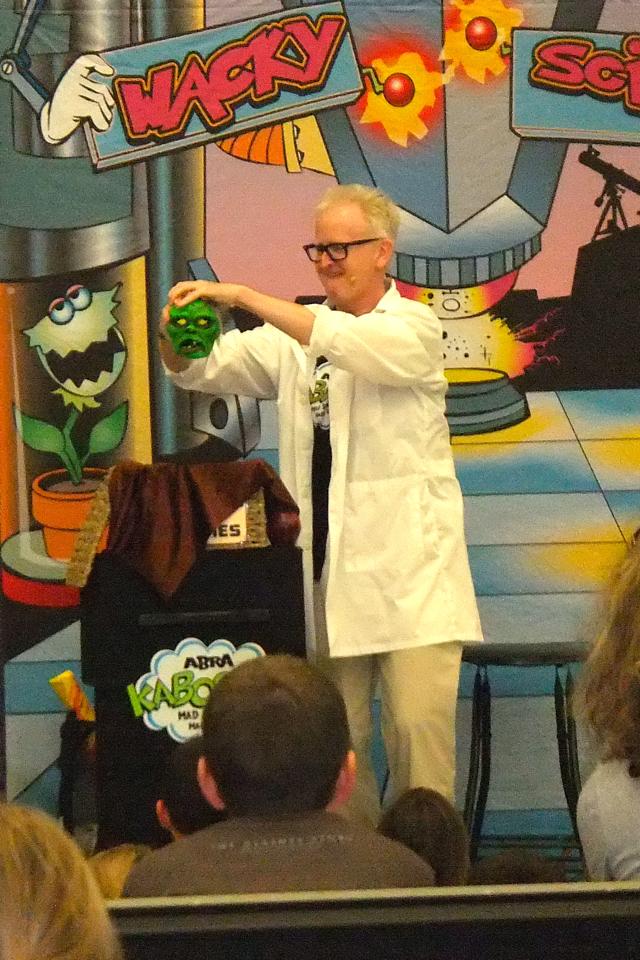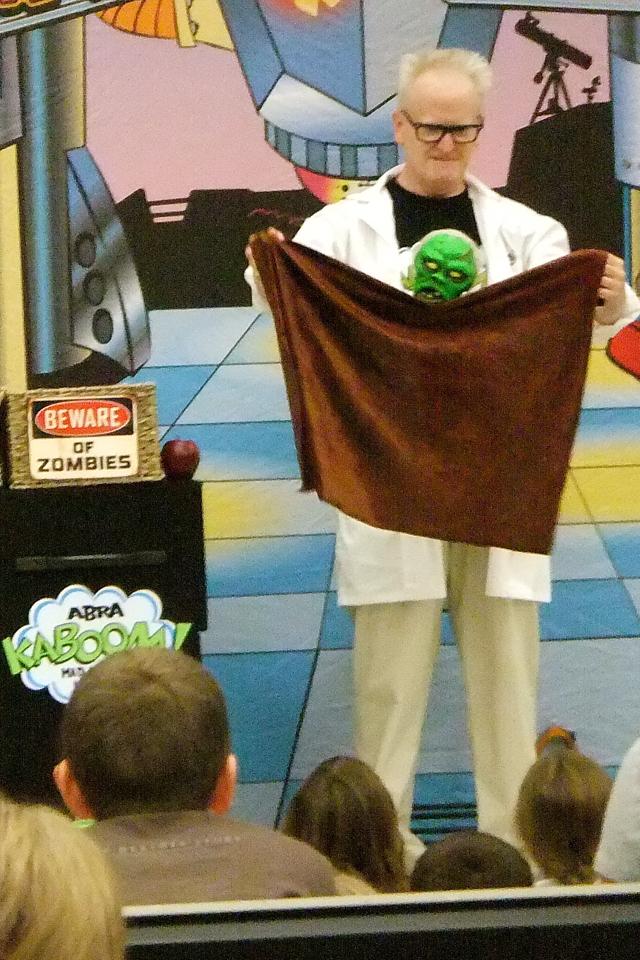 Imagine this…. You bring out a basket and tell your audience you have trapped a little zombie. He is the Walking Fred, or Dead Fred.
You warn them to stay back, and you slowly open the basket.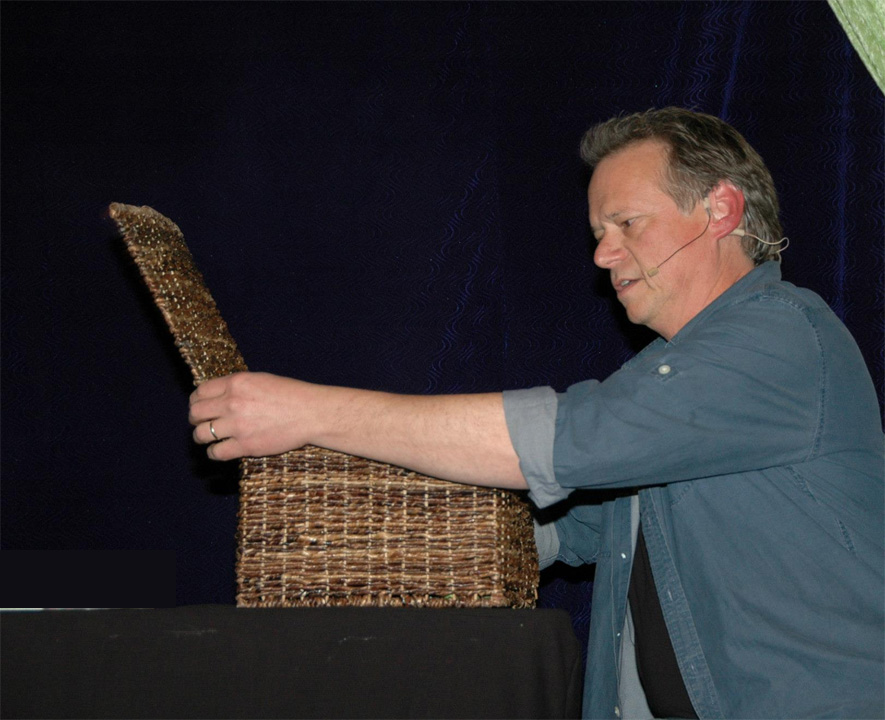 He lunges at you several times and tantrums, but finally calms down. Finally you take the cuffs off because he promises to be good, answering you with a grunt.
He stumbles up and he grunts and roars. You've got a chain around his arms to protect everyone. He walks around but cannot get out of the basket…that's a good thing.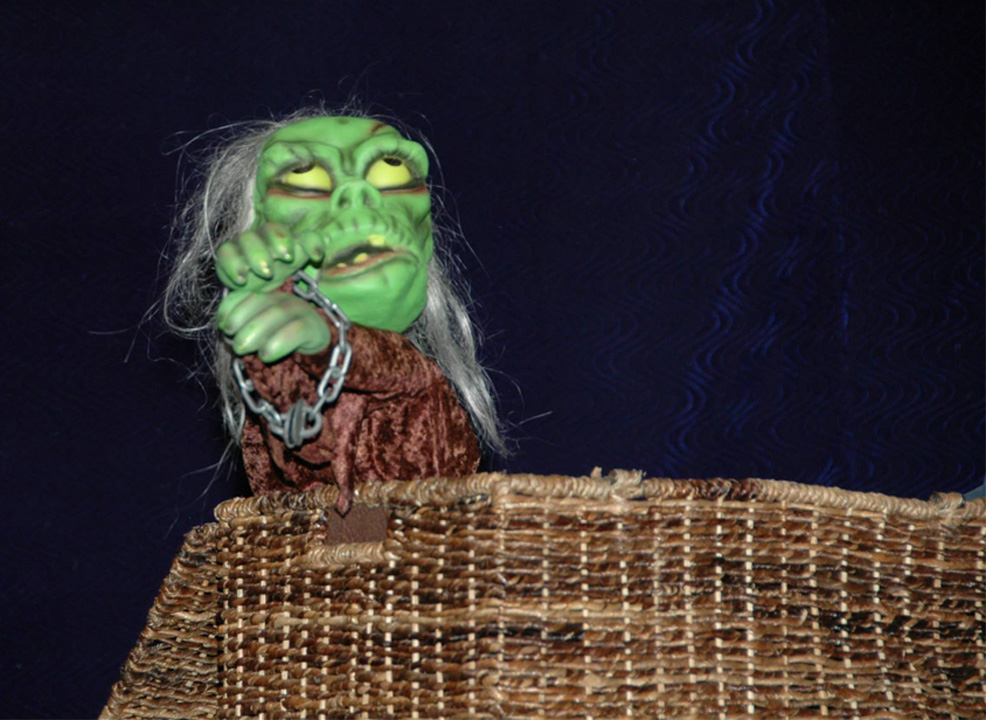 You tell him that the audience is here to see him and ask him to wave hello to them. His arms are stone stiff so the action is hilarous as he struggles to get his wave out! Things go from bad to worse as his arm breaks off, then the other one and finally his head falls off. Ooops!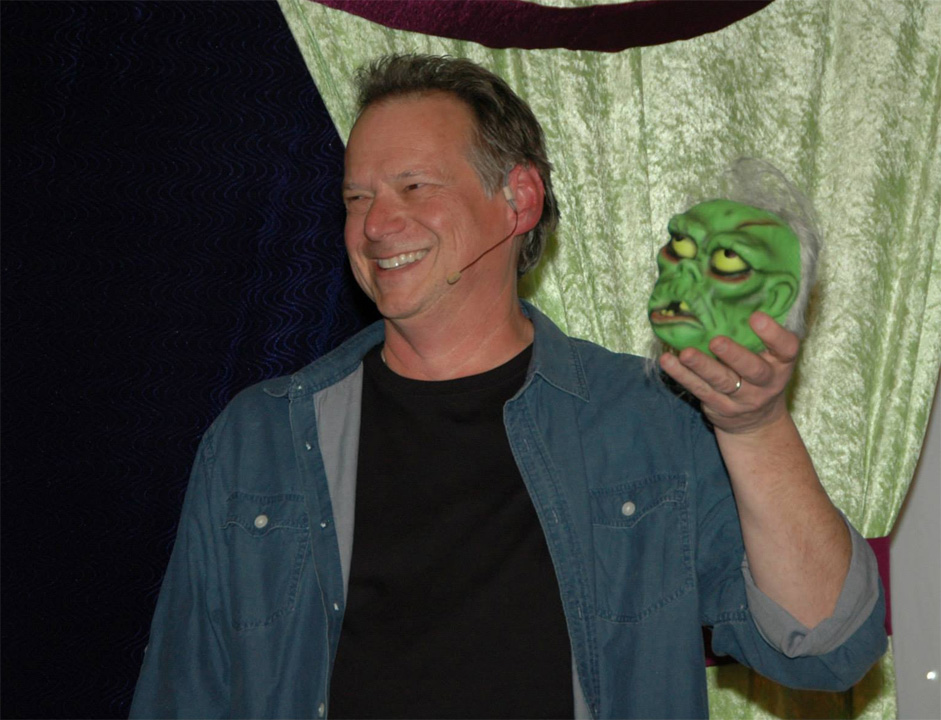 Holding the head you make a joke or two and the head takes off floating in mid-air as you grab it!
Wow what was that? Wait He can float?
You put the parts back into the basket with an inpromptu funeral pretending to cry and cover it with the cloth (his clothing)….then it happens!

His head pops up under the cloth and starts to fly around the room! You pull him back but he over powers you.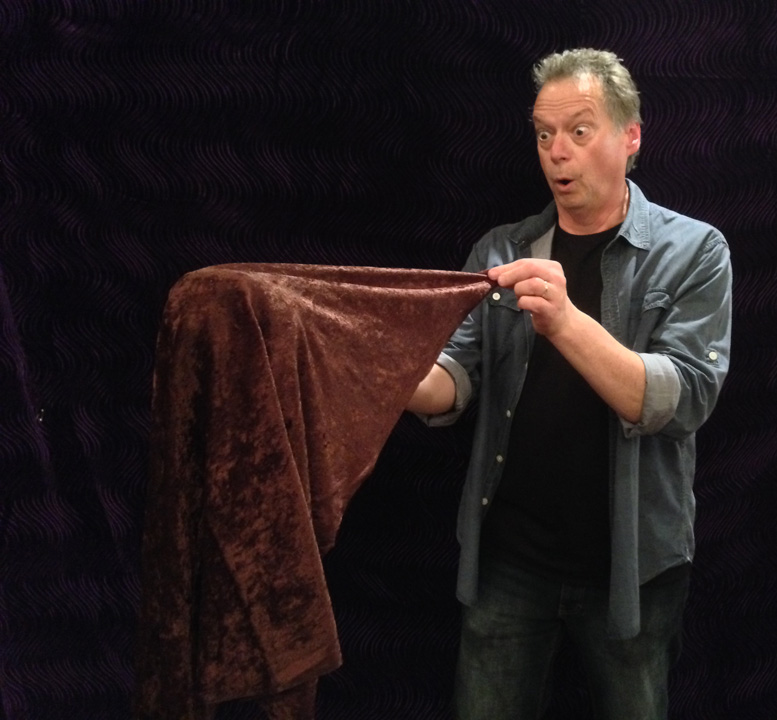 The stuggle continues until you demand his comes up from behind the cloth and show himself. You hypnotize him and he goes into a trance. That should work…but doesn't!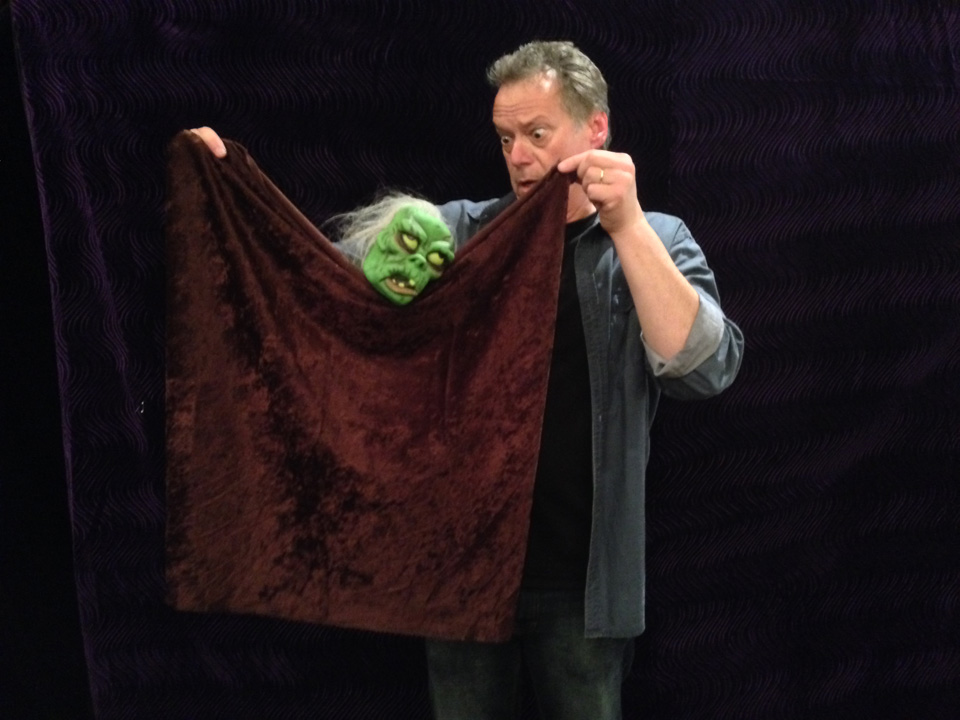 The flying around continues and he comes directly at you!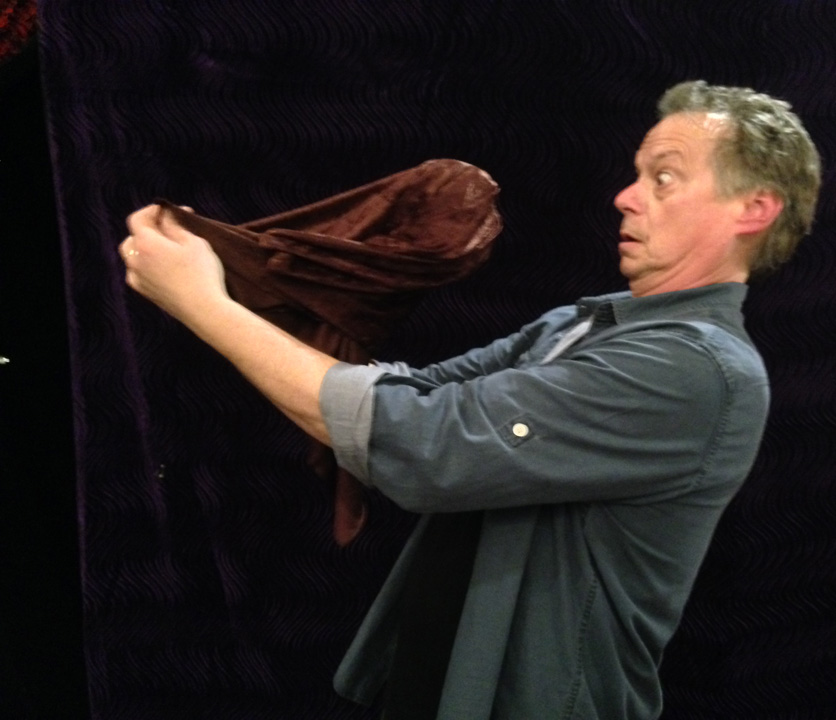 Finally you grab the head and the cloth with your hands
and struggle to get him back into the basket…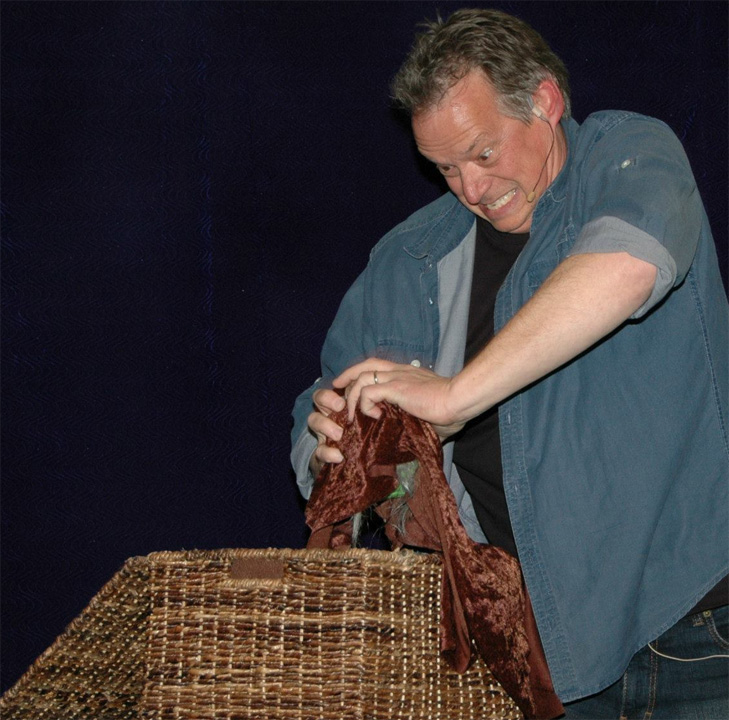 This is a "zombie zombie" for those who are already magicians, you know how it works with the flying gimmick. However our gimmick is unique & magnetic!
There are 2 stages to the routine.
PUPPET FRED ZOMBIE – The cloth covers your hand and the head and arms go on over the cloth. As they fall off your hand is hidden under the cloth.
FLOATING FRED ZOMBIE – The cloth is used to help the zombie head fly around with the use of the gimmick. Special thanks to Paul Gross & Shawn McMaster for their magical consultations.
The Mouth does not move… it's formed in the "open position" so it's perfect for zombie vocalizations like "RRRRrrrrr", "Aaaaarrrrhhhh", "Eeeerrrrrrggghh" etc.and you don't need to be a Ventriloquist to make it Roar. Those sounds do not require any mouth movement at all. Just hold your mouth slightly open and still while you growl. Enjoy!
You did it! You saved your audience and yourself!
(The applause is deafening! )
Axtell Zombie Staff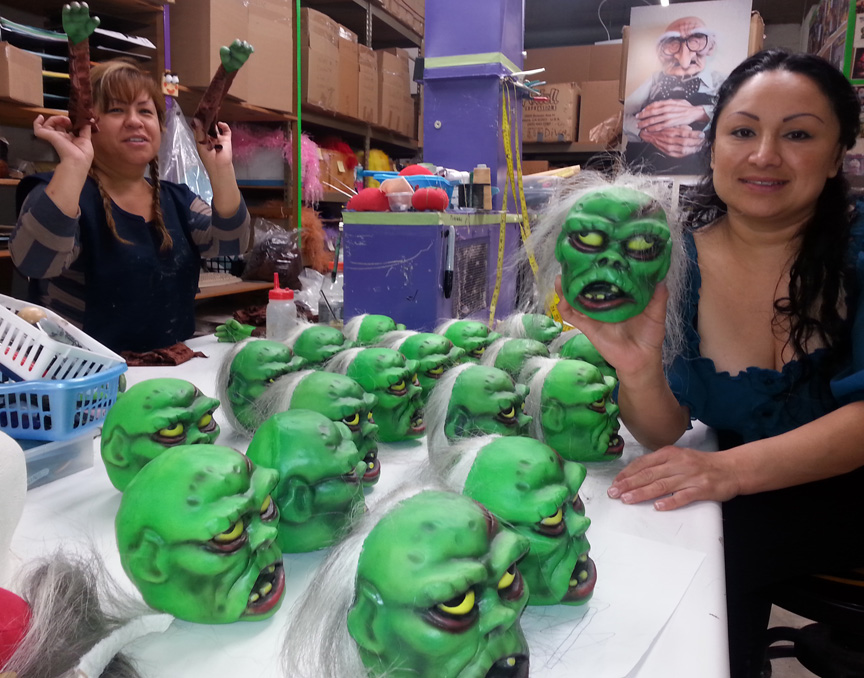 supplied
NOT for very young children!
INCLUDES ALL THIS!
Basket with Lid (For right hand. If you need left let us know)
Zombie Head and Arms
Cloth
Magic Gimmick
Free Zombie Music to perform with!
Link to free music below:
Zombie Music Track #1 (Intro & fade out)
Zombie Music Track #2 (Funeral to The End)